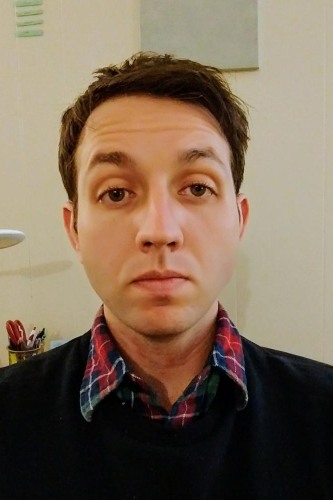 Dorin Robert Smith
B.A. Literatures in English, University of California, San Diego, M.A. English, California State University, Long Beach
Research Interests
African American Studies and the Black Atlantic, American Literature and Culture, Eighteenth-Century Studies, Literary and Cultural Theory, Literature and Cognitive/Psychological Science, Romantic and Victorian, Studies in the Novel, Transatlantic Studies, Narrative Theory, Phenomenology
Dissertation Title
Fictional Brains: Reflecting on the Neural Subject in the Nineteenth-Century American Novel
Dorin Smith is a PhD candidate in English at Brown University.  His work has been published in or is forthcoming from Early American  Literature, The Henry James Review, Postmodern Culture, and ESQ: A Journal of  Nineteenth-Century American Literature and Culture. His research focuses on the relationship between the novel and the history of science in the US during the long nineteenth century. Currently, he is finishing his dissertation,  Fictional Brains: Reflecting on the Neural Subject in the Nineteenth-Century  American Novel, a project which explores how the formal possibilities of narrative action in the novel were prefigured by contemporary neuroscientific and biological models of material cognition.
Courses Taught:
GISP 0010 Interrogating Lovecraftian Influences in Modern Media. Spring 2017.
ENGL 0200 Fictional Brains: Reading Artificial Intelligence and Cognition. Spring 2016.
ENGL 0900 Critical Reading and Writing I: The Academic Essay. Fall 2015.
"Ghosts without Depth: The Recognition of Jamesian Ghosts." The Henry James Review 37.3 (Fall 2016).
"Paradigm for a Romantic Metaphorology. A Review of Leif Weatherby, Transplanting the Metaphysical Organ: German Romanticism between Leibniz and Marx." Postmodern Culture, vol. 27, no. 1, 2018.
"The Year in Conferences—2017: ALA, May 25-28, 2017, Boston, MA." ESQ: A Journal of Nineteenth-Century American Literature and Culture, vol. 64, no. 1, 2018. Coauthor.
"Sentimental Vivisection." [forthcoming from Early American Literature]
"Realism/Materialism: What Maisie Knew and the Novel of Biological Accidents, 1897." [forthcoming chapter in Crossings: Nineteenth-Century  
American Culture at a Juncture, University of Edinburgh Press]