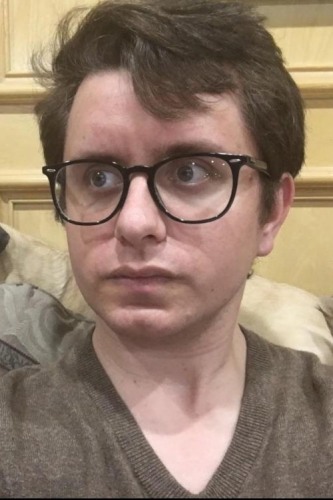 Fabrizio S. Ciccone
B.A. Literature, Sarah Lawrence College., M.A. English, Boston College.
Research Interests
American Literature and Culture, Literary and Cultural Theory, Race and Ethnicity, Studies in the Novel, Transatlantic Studies, 20th-Century and Contemporary
Fabrizio Ciccone is a fourth-year doctoral candidate. His research focuses on the long 20th century on both sides of the Atlantic, with a special emphasis on the intellectual history of catastrophe and the political utility of comedy. His teaching interests include literary modernisms, post-1945 and contemporary global Anglophone fiction, film and film theory, and the history and theory of comedy (from the 18th century to the present). Of central importance to both his teaching and his research is the theoretical recuperation of failure. His dissertation examines texts that refuse a tragic perspective when conceptualizing the experience of defeat, choosing to turn instead to a distinctly comedic mode of thinking. One avenue his research on this subject has taken is the phenomenon of cultural defeat, specifically how comedy has been used by artists and thinkers to understand the ongoing political, environmental, and economic catastrophes of the 20th and 21st centuries.