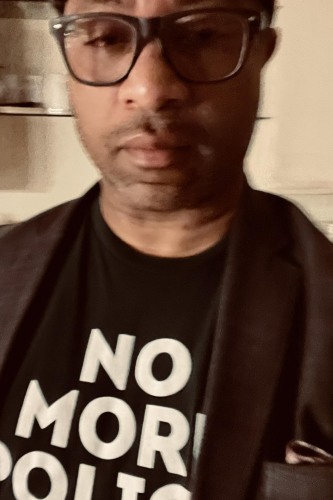 Austin Jackson
Assistant Professor of the Practice, Nonfiction Writing Program
Office: 70 Brown St., Rm. 416
Degrees
Ph.D. African American and African Studies, Michigan State University, 2009.
M.A. Critical Studies in the Teaching of English, Michigan State University, 2001.
B.A. English, Norfolk State University, 1998.
Professional Accomplishments
Austin is an Assistant Professor of the Practice in the Nonfiction Writing Program and Affiliated Faculty in the Department of Africana Studies/Rites and Reason Theater.
His teaching and research areas include rhetoric and composition, critical race studies, and qualitative research in English education. His original research has been published by the National Council of Teachers of English Press/Routledge, The International Journal of Africana Studies, Reading Research Quarterly, The Black Scholar, American Language Review, and Stanford University's Black Arts Quarterly. In 2014, Bedford/St. Martin's Press published his co-edited anthology, Students' Right to Their Own Language: A Critical Sourcebook. The book, co-edited with Staci Perryman-Clark and David Kirkland, collects perspectives from some of the field's most influential scholars to provide a foundation for understanding the historical and theoretical context informing the affirmation of all students' right to exist in their own languages. Austin is an editorial board member of the Journal of Teaching Writing and a member of the Conference on College Composition and Communication's Language Policy Committee. 
Austin previously served as an Assistant Director of the Sheridan Center for Teaching and Learning, where he administered Brown's  Writing Center, the Writing Fellows Program, and the Excellence At Brown Pre-Orientation Program (2018-2021). Before coming to Brown, Austin held academic appointments as an Assistant Professor of Writing & Rhetoric in Transcultural Contexts and Core Faculty in the Muslim Studies Program and African American and African Studies at Michigan State University.  He also served as Director of the My Brother's and Sister's Keeper Program, an award-winning mentoring and service-learning initiative for adolescent youth attending Detroit Public Schools. In 2016, he established the My Brother's Keeper Prison Outreach Program, a peer-mentoring program for inmates at the Richard A. Handlon Men's Correctional Facility, Ionia, MI.