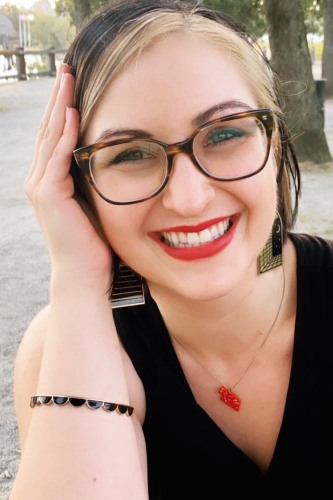 Katherine E. Preston
B.A. English and Political Science, Williams College, 2016.
Office: 70 Brown St., Rm. 414
Office hours: Thursdays 1:00-2:30 and by appointment
Research Interests
African American Studies and the Black Atlantic, American Literature and Culture, Colonial and Postcolonial Studies, Literary and Cultural Theory, Poetry and Poetics, Race and Ethnicity, 20th-Century and Contemporary
I am broadly interested in the relationship between the categories 'poetic' and 'political.' My project works against the reduction of 'political literature' to that which is representative, of the voice or reality of an oppressed identity, and questions the coherence of the (often mutually exclusive) categories 'political' and 'poetic.' My dissertation begins in recognition, via Black Studies and aesthetic theory, that racial representations underwrite the Western political and aesthetic (liberal) concept of the Subject. If Western aesthetic theory naturalizes representation and representability as the mode of perception and subjectivity, how might certain aesthetics denaturalize representation and offer nonrepresentational possibilities? How might certain aesthetic strategies in late 20th- and 21st-century poetics reveal blackness as relational rather than representational?
Courses Taught:
Critical Reading and Writing I: The Academic Essay
The Revolution Will Not Be Televised: Poetry and the Politics of Representation
How Poetry Matters: Reading Experimental Poetry in the Pandemic Era (Summer 2022)
Review: The Fallen by Carlos Manuel Álvarez, MAKE Literary Magazine, Published online October 13, 2021.
Review: Just Us: An American Conversation by Claudia Rankine, MAKE Literary Magazine, Published online April 12, 2021.
Review: God Was Right by Diana Hamilton, MAKE Literary Magazine, Published online November 10, 2020.
Review: Spectra by Ashley Toliver, MAKE Literary Magazine, Published online July 25, 2019.
Pembroke Center Graduate Fellowship, Brown University, Fall 2022-Spring 2023