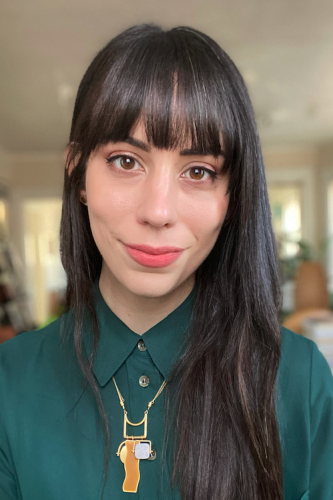 Michelle Rada
A.M. English, Brown University, 2015., B.A. English & Comparative Literature, Cornell University, 2013.
Research Interests
Gender and Sexuality Studies, Literary and Cultural Theory, Transatlantic Studies, Studies in the Novel, 20th-Century and Contemporary
Dissertation Title
Form and Dysfunction: Modernism at the Limits of Precision
My research focuses on turn-of-the-century British, Irish, American, and Latin American literature and modernist aesthetics. My interests lie broadly in the relationship between visual culture and design, theories of industry and technology, psychoanalysis, and the novel as a form through which these perceptual paradigms are negotiated, diffused, and restructured. My dissertation explores the crisis in 20th-century hermeneutics between functionalist and psychoanalytic models of theorizing aesthetics and the production of meaning. Modernism's obsession with transparency, reflectiveness, gridding, negative space, and the cosmetic surface are of special interest to my current research.
Courses Taught:
Emerson College
IN 315: Advanced Topics in Psychoanalysis as Cultural Criticism: Uncanny Aesthetics and Sexuality, Spring 2020/Fall 2020/Spring 2021
IN 126: Literature of Extreme Situations, Fall 2019;
HS 101-01: Literature and Culture of the Americas, Fall 2019 & Spring 2020
Brown University
Instructor
ENGL200: Intimate Horrors: Encountering the Uncanny in Literature and Film (Spring 2016);
ENGL 900: Critical Reading and Writing I: The Academic Essay (Fall 2015);
CEEL 0983: Writing the Expository Essay, Summer Sessions 2017 and 2016 (pre-college);
CEEL 0991: Putting Yourself into Words, Summer Sessions 2019 and 2015 (pre-college)
Co-Instructor
CEEL 0997: Party Girls: Feminist Fiction Up 'till Dawn 1815 – 2015, Summer Sessions 2018 and 2017 (pre-college)
Teaching Assistant
CEEL 0928: Freud: Psychoanalysis and its Legacies, Summer Sessions 2015 and 2014 (pre-college)
"Flirting with Form: Sartorial Dysfunction from Freud to Joyce" / James Joyce Quarterly, 54: 3-4 (2019), 275-302.
"The Eternal Return of the Contemporary: Modernism's Tense Presents" | Room 1000 5:1 (2017), 169-186.
"Boring Holes: The Crystalline Body of Beckett's The Lost Ones" / The Journal of Beckett Studies, Special issue: "(Dis)embodied Beckett," 22-39.
"The Illusionless: Adorno and the Afterlife of Laughter in How It Is" / The Journal of Modern Literature 38:2 (2015), 150-167.
"Dread name of love: The Perverse Aesthetics of Enjoyment as Disgust in Barnes and Beckett" / The Comparatist, Special issue: "Enjoyment," 171-195
Book Reviews:
Late Modernist Style in Samuel Beckett and Emmanuel Levinas, by Peter Fifield. Textual Practice. 29:5 (2015), 577-581.
Other:
"Conference Review: MSA 2018," Co-authored with Patty Argyrides, Meindert Peters, and Séan Richardson. The Modernist Review. November 13, 2018.