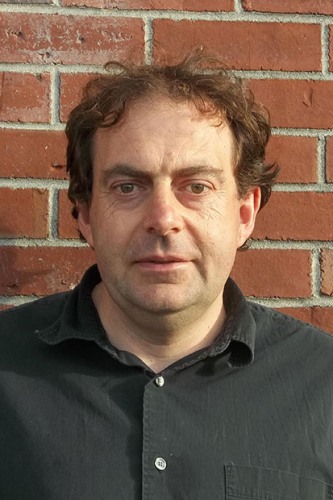 Robert P. Ward
Assistant Professor of the Practice, Nonfiction Writing Program
Office: 70 Brown St., Rm. 206
Office hours: Mondays, Wednesdays, and Fridays 1:00 PM-2:00 PM or by appt.
Research Interests
American Literature and Culture, Poetry and Poetics, 20th-Century and Contemporary, Creative nonfiction, Composition Theory, Craft Studies
Degrees
Ph.D. with British Academy scholarship, American literature, University of Leeds, England, 2001
M.A. with Distinction, American literature, University of Leeds, 1996
B.A. Humanities (English) with Honors, University of Glamorgan, Wales, 1994
Research & Teaching Interests
The theory and practice of academic and non-fiction writing, especially related to presence, voice, and revision; the relationship between manual crafts, trades, and writing; nature writing; beauty and style in writing and art; the work of M.C. Richards; creative communities, including Emerson and his circle, Black Mountain College, and Bolton's Whitman Society; American and Welsh literature more generally. Rob teaches the Art of Craft, Nature Writing, Introduction to Creative Nonfiction, and the Academic Essay. 
Professional Accomplishments
Rob has published two books: Understanding James Leo Herlihy (University of South Carolina Press, 2012) and the edited volume Nelson Algren: A Collection of Critical Essays (Fairleigh Dickinson University Press, 2007). He has published essays and book chapters in Moving Words: Multimodal and Digital Creative Writing Pedagogies, the Journal of Black Mountain College Studies, The Idea of the City: Early-Modern, Modern and Post-Modern Locations and Communities, The Anacronist: Journal of English and American Studies, Impost: A Journal of Creative and Critical Work, The Encyclopedia of the Romantic Era, Lifewriting Annual: Biographical and Autobiographical Studies, Twentieth Century Literature Criticism, and Resources for American Literary Study. He is currently the Reviews Editor for the journal Lifewriting Annual: Biographical and Autobiographical Studies, which is published by the University of London, Birkbeck. He has presented papers on these and other subjects at various conferences in the US, including Asheville, New York, and Boston - and in Europe, including Groningen, Lancaster, Swansea, Northampton, and Aberystwyth. He organized the first international conference on Nelson Algren, which took place at the University of Leeds in 2000. He has received grants from the British Academy, the Arts and Humanities Research Board, the University of Cumbria, and the American Embassy in London. Rob is currently writing an essay on hummingbirds.