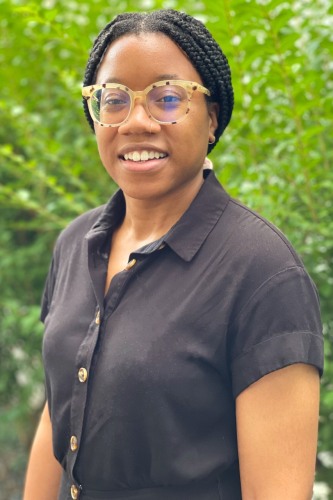 Tara Melody Holman
B.A. English, Bryn Mawr College, 2019., B.A. International Studies, Bryn Mawr College, 2019.
Research Interests
African American Studies and the Black Atlantic, Gender and Sexuality Studies, Poetry and Poetics, Race and Slavery, 20th-Century and Contemporary, Literary and Cultural Theory, Queer Theory/Gay and Lesbian Studies
My research seeks to substantiate a notion of a black feminist poetics intimately concerned with textuality, black maternity, and grief in 20th-century African American literature and culture.
Engaging with African American poetry and poetic traditions, literary criticism and theory, gender and sexuality studies, and performance studies, I take up questions of racial embodiment, subject formation and modernity, aesthetics and cultural production, expressive cultures and social histories, and language and linguistic theories. My dissertation looks to the black maternal as a primary touchstone for thinking about subjectivity, the past, and representation in 20th-century African American literature and culture. My argument throughout centers the black maternal as a real historical, discursive, and symbolic figure that disorganizes key archetypes of subjectivity and identity formation, like sexuality and gender, and potentializes other representative and expressive practices. Compelled by the rich legacy of black feminist scholarship on language and expressivity, including Hortense Spillers, Mae G. Henderson, Evelyn Hammonds, and many more, I consider how black feminist poetics and expressive
practice illuminate processes of black subjectification. I wonder, how might a "play with language" grapple with grievance, melancholy, and remembering?
Courses Taught:
ENGL0200Z, Black (W)holes, Black Feminism(s), and Black Feeling
ENGL0900 S06, Critical Reading and Writing I: The Academic Essay